LA GRANDE ALA - "LO STORMO DEGLI AMICI DELL'ANIMA"
THE BIG WING -THE FLOCK OF THE FRIENDS OF THE SOUL
NUMERO 38 (NUMBER 38)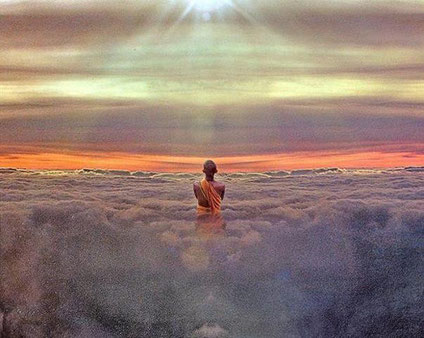 DIO  DIO  DIO
 
Quando dalle profondità del sonno
risalgo la scala a spirale del risveglio,
io ripeto in un sussurro:
Dio, Dio, Dio!
Tu sei il mio cibo, e quando interrompo il digiuno
della notturna separazione da te,
ti gusto e penso in silenzio:
Dio, Dio, Dio!
Ovunque vado, il faro della mia mente
è puntato sempre su di te
e nella lotta tumultuosa dell'azione
il mio silenzioso grido di guerra è sempre:
Dio, Dio, Dio!
Quando in silenzio le violente bufere delle prove
e le angosce mi lanciano il loro ululato,
io ricopro il loro frastuono intonando a gran voce:
Dio, Dio, Dio!
Quando la mente intesse i suoi sogni
coi fili delle memorie,
su quella magica tela io ricamo:
Dio, Dio, Dio!
Ogni notte, nel sonno più profondo,
la mia pace sognando esulta: Gioia, Gioia, Gioia!
E la mia gioia viene cantando senza fine:
Dio, Dio, Dio!
Mentre veglio, mangio, lavoro, sogno, dormo,
servo, medito, canto e divinamente amo,
l'anima mia bisbiglia senza posa, non udita da alcuno:
Dio, Dio, Dio!
(Paramahansa Yogananda)
------------------------------------------------------------------------------------
THE BIG WING - N° 38
GOD GOD GOD

When the depth of sleep
I go up the spiral staircase of awakening,
I repeat in a whisper:
God, God, God!

You are my food, and when the fast interrupt
night of separation from you,
you taste and think in silence:
God, God, God!

Everywhere I go, the spotlight of my mind
focus was always on you
and the struggle of the tumultuous
My silent war cry is always:
God, God, God!

When silence the violent storms of trials
and anguish I launch their howling,
I cover it their clamor loudly chanting:
God, God, God!

When the mind weaves his dreams
with the threads of memories,
on that magic cloth I embroidery:
God, God, God!

Every night, in the deepest sleep,
my peace dreaming exults: Joy, Joy, Joy!
And my joy is singing without end:
God, God, God!

While awake, eat, work, dream, sleep,
servant, meditate, chant and divine love,
My soul whispers ceaselessly, unheard by any:
God, God, God!
(Paramahansa Yogananda)