LIBRETTI EVOLUTIVI - "COSI' PARLANO I MAESTRI"
EVOLUTIONARY BOOKS - "SO TALK TO MASTERS"
NUMERO 12 (NUMBER 12)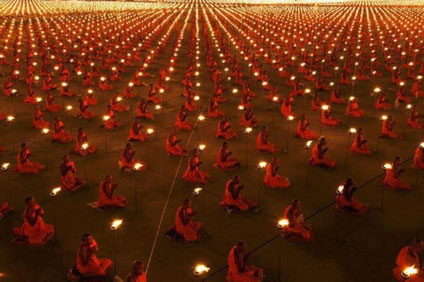 OM NAMO BHAGAVATE SIVANANDAYA!
OM NAMO BHAGAVATE CHIDANANDAYA!
Cari Amici, come riuscire ad ottenere il controllo sui sensi e sugli oggetti dei sensi? Swamiji ci indica la via della discriminazione. Analizzate gli oggetti e il vostro desiderio per essi, andate a fondo in questa analisi e scoprirete che in essi non c'è nulla che possa aiutarvi a trovare la felicità. Al contrario essi vi conducono ad attaccamento, invidia e gelosia. Non vi fanno raggiungere la pace mentale, ma vi portano lontano da essa. Esercitate una discriminazione costante e siate sempre vigili su ogni scelta che operate, analizzate il probabile risultato, vi porterà un bene più elevato o sarà la ricerca di un piacere? Andate avanti sempre con questa analisi e non abbandonatela mai, sarà la vostra ancora di salvezza.
Buona lettura e .... Buona Meditazione.
Cordiali Saluti
Hari OM !
Discriminazione – 1 di Swami Chidananda
 
In accordo al sentiero Jnana del Vedanta, viveka o discriminazione è il primo aspetto della Sadhana, vairagya o distacco, o imparzialità, è il secondo.La vostra mente insegue sempre la soddisfazione dei sensi. Se è sempre piena di grossolanità e brame per il piacere dei sensi, voi non svilupperete un'acuta discriminazione, il vostro intelletto non sarà mai raffinato. Conquistate questa acuta discriminazione e liberatevi dall'ingannevole natura degli oggetti dei sensi, liberate voi stessi dalla dannosa natura dell'indulgenza dei sensi. Liberatevi dalla presa della vostra natura grossolana esercitando costantemente la discriminazione, ogni giorno ed ogni momento della vostra vita. Dovete diventare una persona capace di esercitare sempre una discriminazione etica, intellettuale e spirituale, così che il mondo materiale non può ingannarvi, non può intrappolarvi. Solo allora sarete realmente liberi, e sarete capaci di assorbire i grandi insegnamenti di saggezza. 
Sappiate con chiarezza che non c'è nulla di buono per voi in questi oggetti dei sensi, che vi attraggono, vi intrappolano e vi rendono schiavi. Essi sono la causa-radice di tutti i vostri dolori e malattie, angosce e sofferenze, disturbi e agitazioni. Fin quando la mente è irrequieta, non ci può essere vera pace o felicità. Con ferma determinazione e costante discriminazione, dovete gradualmente sbarazzarvi di qualsiasi intensa passione e desiderio potete avere per oggetti dei sensi o godimento dei sensi. Convertite la vostra raga, passione, per gli oggetti dei sensi, in viraga, indifferenza e poi sviluppate vairagya, distacco.
Voi dovete esercitare una disciplina molto stretta sulla vostra mente. In quanto i sensi sono stati abituati ad un certo modo di comportamento per un lungo periodo e voi non avete mai cercato di tenerli a freno, non avete mai cercato di esercitare nessun controllo su di essi a causa della vostra illusione e ignoranza. Non siete mai venuti in contatto con quel tipo di persone che non corrono dietro ai piaceri dei sensi, ma che invece cercano di tenerli a freno. Così voi pensate di dover avere godimenti sensuali, ed ora i sensi non vi lasceranno a meno che non facciate uno sforzo ben determinato. Sviluppate una tale ferma determinazione. Dovete controllare il turbolento comportamento della vostra mente, dovete controllare la sua costante caccia ai piaceri dei sensi. Dovete cercare di dominare voi stessi. Questo è l'unico modo per disciplinare la vostra mente. 

Dio vi benedica!
-----------------------------
EVOLUTIONARY BOOKS - "SO TALK TO MASTERS":  N° 12
OM NAMO BHAGAVATE SIVANANDAYA!
OM NAMO BHAGAVATE CHIDANANDAYA!
Dear Friends, how to succeed in gaining control over the senses and objects of the senses? Swamiji shows us the way of discrimination. Analyze objects and your desire for them, go deeply into this analysis and find that there is nothing in them that can help you find happiness. Instead they will lead to attachment, envy and jealousy. This will not achieve peace of mind, but it will take you away from it. Apply a constant discrimination and be ever vigilant about every choice you made​​, analyzed the likely result will bring a greater good or will the search for pleasure? Go on and on with this analysis and not abandon it never will be your lifeline.
Good reading and .... Good Meditation.
Best Regards
Hari OM!
Discrimination - 1 by Swami Chidananda
 
According to Vedanta the Jnana path, viveka or discrimination is the first aspect of Sadhana, Vairagya, or detachment or impartiality, is the second.Your mind is always followed by the satisfaction of the senses. If it is always full of villainy and lust for sensual pleasure, you will not develop an acute discrimination, your intellect will never be refined. Conquer this deceptively acute discrimination, and free nature of the objects of the senses, release yourself from the harmful nature of the indulgence of the senses. Free yourself by taking your rough nature constantly practicing discrimination every day and every moment of your life. You must become a person capable of exercising discrimination always ethical, intellectual and spiritual, so that the material world can not deceive you, can not entrap you. Only then will you truly be free, and you will be able to absorb the great wisdom teachings.
Know clearly that there is no good for you in these objects of the senses, that attract, trap you and make you slaves. They are the root cause of all your pain and disease, anguish and suffering, disorder and unrest. As long as the mind is restless, there can be no true peace or happiness. With firm determination and constant discrimination, you have to gradually get rid of any intense passion and desire you have for objects of the senses or enjoyment of the senses. Convert your raga, passion for the objects of the senses, viraga, indifference, and then develop vairagya, detachment.
You must exercise a very strict discipline on your mind. In what ways were used to a certain mode of behavior for a long time and you never tried to keep them in check, you have never tried to exert control over it because of your illusion and ignorance. Do not you ever come into contact with that kind of people who do not run after the pleasures of the senses, but instead try to keep them in check. So you think you have to have sensual pleasures, and now the senses will not leave you unless you're making a very determined effort. Developed such a strong determination. You have to control the turbulent behavior of your mind, you have to control his constant hunting pleasures of the senses. You must strive to control yourself. This is the only way to discipline your mind.

God bless you!