ANANDAYOGA - LO YOGA DELLA GIOIA - "LA MIA STRADA E' LA TUA STRADA"
ANANDAYOGA - THE YOGA OF JOY - "MY WAY IS YOUR WAY"
NUMERO 14 (NUMBER 14)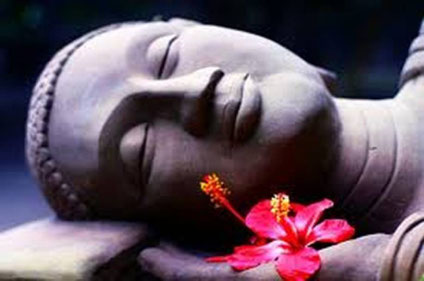 La tazza vuota...di Mizar
... Letti tutti i libri,
meditato tutte le meditazioni,
risalii il Grande Fiume
e valicai le vette dell'Himalaya.
Nella Valle Segreta bussai
alla porta del Tempio della Conoscenza.
Lì rimasi tre anni in attesa
che mi venisse concesso di entrare.
Quando finalmente la porta si aprì,
condotto da un sacerdote nel Santo dei Santi,
potei contemplare il segreto:
una piccola tazza di legno vuota !
Profondamente deluso
abbandonai la ricerca.
A lungo vissi la vita degli uomini
in città più aride del deserto.
Stanco di me stesso, si rifece sentire dentro
il richiamo del grande deserto pietroso.
Per tre anni vagai, ai piedi delle montagne
per quegli immensi spazi desolati.
Un giorno, senza più acqua né forze,
sotto il sole spietato sentii la fine vicina.
Stremato mi adagiai su una roccia:
un luogo adatto per morire.
Sentii allora all'orecchio
il gorgoglio di una vena d'acqua
che scorreva in una stretta fenditura
proprio sotto di me.
Passandoci solo un braccio,
nonostante tutti i miei sforzi
potevo solo inumidire le mie labbra
ormai aride e disseccate.
Allora comparve il sacerdote del Tempio.
In silenzio mi porse
la piccola tazza di legno,
vuota.
------------------------------------------------------------------------------------
YOGA OF JOY - "MY WAY IS YOUR WAY" - N° 14
The empty cup ... Mizar

... Read all the books,
meditated all meditations,
climbed the Great River
and I crossed the Himalayas.
The Secret Valley knocked
the door of the Temple of Knowledge.
I was there three years, while
that I be allowed to enter.
When the door finally opened,
led by a priest in the Holy of Holies,
I could contemplate the secret:
a small wooden cup empty!
deeply disappointed
abandoned the pursuit.
A long-lived human life
the driest desert in the city.
Tired of myself, cleared feel inside
the call of the great stony desert.
For three years I wandered, at the foot of the mountains
for those vast desolate spaces.
One day, without water or forces,
under the merciless sun I felt the end was near.
I lay exhausted on a rock:
a suitable place to die.
Then I heard the ear
the gurgling of a stream of water
flowing through a narrow slit
right below me.
Passing only one arm,
despite all my efforts
I could only moisten my lips
now dry and withered.
Then appeared the priest of the Temple.
Silently handed me
the small cup of wood,
empty.