LA GRANDE ALA - "LO STORMO DEGLI AMICI DELL'ANIMA"
THE BIG WING -THE FLOCK OF THE FRIENDS OF THE SOUL
NUMERO 15 (NUMBER 15)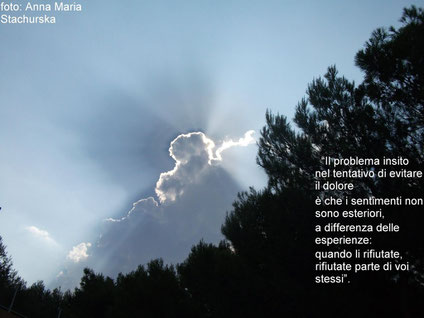 L'odio porta alla violenza, e chi ha subito violenza è stato ferito tanto profondamente da pensare che non c'è alcun rimedio per il suo dolore, che è condannato a vivere nella sofferenza, fosse solo per il ricordo della violenza subita. Forse si rifugerà nella speranza che il tempo rimargini questa sua ferita fino a richiuderla. Questo, purtroppo, non avviene mai. Quella ferita va curata con il gi
...
usto rimedio, e ce n'è uno solo in grado di guarirla: il perdono.
L'Amore fa parte di noi, costituisce la nostra vera essenza, ma noi l'abbiamo sepolta con strati di egoismo, di odio, di paura, e chissà quanti altri sentimenti negativi. Tuttavia, non è mai troppo tardi per riscoprire quell'amore, basta gettare via dalla nostra vita e dal nostro cuore tutto quello che amore non è. Il perdono ci aiuta a fare proprio questo. Agli occhi di chi ha perdonato, un amico e un nemico sono la stessa cosa: anime, fratelli. Egli sa che i suoi fratelli possono sbagliare, ma attribuisce i loro errori all'ignoranza, e ha imparato che può amarli indipendentemente dalle loro cattive azioni.
Om shanti
------------------------------------------------------------------------------------

THE BIG WING - N° 15
Hatred leads to violence, and who have been abused are wounded so deeply as to think that there is no remedy for his pain, which is condemned to live in suffering, if only for the memory of the rape. Perhaps you will take refuge in the hope that this time rimargini wound up closing it. This, unfortunately, never occurs. That wound is cured with the right remedy, and there's only one able to cure it: forgiveness.
Love is part of us, is our true essence, but we have buried in layers of selfishness, hatred, fear, and who knows how many other negative feelings. However, it is never too late to discover that love, just throw away from our lives and our hearts all that love is not. Forgiveness helps us do just that. In the eyes of one who has forgiven him, both friend and foe are the same thing: anime, brothers. He knows that his brothers might be wrong, but puts their mistakes ignorance, and learned that he can love them regardless of their evil deeds.
Om shanti