LA GRANDE ALA - "LO STORMO DEGLI AMICI DELL'ANIMA"
THE BIG WING -THE FLOCK OF THE FRIENDS OF THE SOUL
NUMERO 6 (NUMBER 6)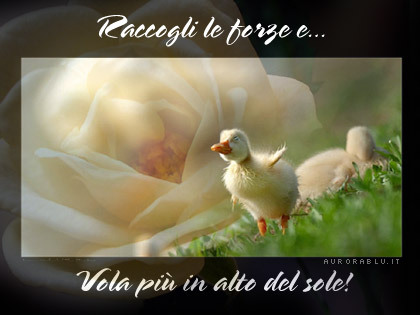 La sola cosa che valga al mondo è il poter portare un po' di felicità nella vita degli altri. Io son più felice di te perché la mia vita è più sacrificata della tua. Che piacere raccogliere un povero uccellino caduto fuori del nido, nutrirlo, insegnargli a volare, e quando è ben sviluppato dirgli: "Ora vola, vola, più in alto del sole ed ancora di più. Non voglio da te nessuna riconoscenza, a me b
...
asta che tu, da onesto, ti formi il tuo nido e ringrazi il buon Dio".
Om shanti
------------------------------------------------------------------------------------
THE BIG WING - N° 6

The only thing that is worth the world to bring some 'of happiness in the lives of others. I am happier than you because my life has sacrificed more than yours. What a pleasure to collect a poor little bird fell out of the nest, feed him, teach him to fly, and when well developed saying "Time flies, flies, higher than the sun and even more. I do not want you no gratitude enough for me you, to be honest, you form your nest and thank the good Lord. "
Om shanti