LA GRANDE ALA - "LO STORMO DEGLI AMICI DELL'ANIMA"
THE BIG WING -THE FLOCK OF THE FRIENDS OF THE SOUL
NUMERO 7 (NUMBER 7)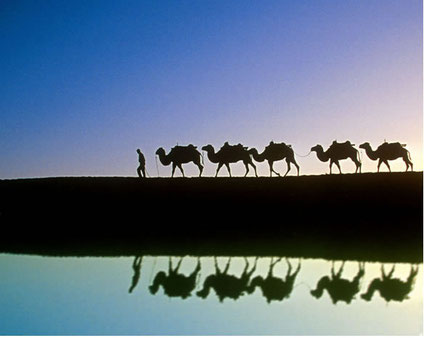 Piccole storie per l'anima
Il miraggio
Un uomo si era perso nel deserto. Esaurita la scorta di viveri e di acqua, si trascinava penosamente sulle ghiaie roventi. Improvvisamente vide davanti a sé delle palme e udì un gorgoglio d'acqua.
Ancora più sconfortato pensò: "Questo è un miraggio. La mia fantasia mi proietta davanti i desideri profondi del mio subconscio. Nella realtà non c'è assolutamente
...
niente".
Senza più speranza, vaneggiando, si abbandonò esanime al suolo.
Poco tempo dopo, lo trovarono due beduini. Il poveretto era ormai morto.
"Ci capisci qualcosa?", disse il primo. "Così vicino all'oasi, con l'acqua a due passi e i datteri che quasi gli cadevano in bocca! Com'è possibile?".
Scuotendo il capo, l'altro disse: "Era un uomo moderno".
------------------------------------------------------------------------------------
THE BIG WING - N° 7

Little stories for the soul
the mirage

A man was lost in the desert. Exhausted the supply of food and water, dragged painfully on the hot gravel. Suddenly he saw before him the palm trees, and heard a gurgling sound of water.
Even more dejected he thought: "This is a mirage. My fantasy projected in front of me the deepest desires of my subconscious. In reality there is absolutely nothing."
With no more hope, delirious, you dropped lifeless on the ground.
Shortly after, they found two Bedouins. The poor fellow was dead.
"We know something?" Said the first. "So close to the oasis, with water in two steps and dates that nearly filled its mouth! How is it possible?".
Shaking her head, the other said: "It was a modern man."